The Riot, Downtown Monterey
November 18, 2006

Anyone who's missed Jerry Hoffman's Boxing Events at the Portola Plaza miss a real opportunity to live life to the fullest. The setting is magnificent. The city of Monterey is one the most beautiful cities in the world. I've seen cities in France, Spain, Italy, and Ireland—all known for beautiful coastlines. The beautiful setting, great rates at the Portola Plaza, and boxing. makes it a win-win situation. While there, I never miss a chance to visit my favorite restaurant and bar on the wharf, Rappa's, which has a great view. Local characters add a little adventure to the occasion. Our view from the hotel was great. These are several of many views I enjoyed.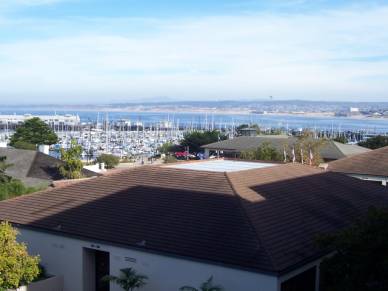 View from hotel room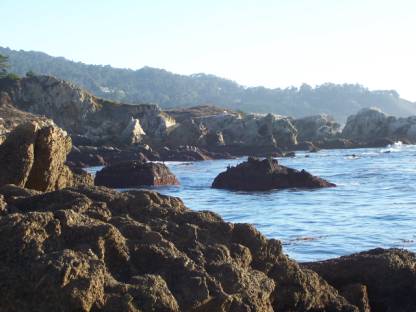 Monterey coastline
I don't care for Pat, the Singing Sheriff's version of the national anthem. I prefer to have it performed in the traditional style. Pat gets a lot of applause, so he must be doing something right. I spent many years in the military; and I like patriotism the old fashioned way.
I mean no disrespect to anyone, but in my opinion the first bout of the evening was the best fight of the night. Constancio Alvarado, from Salinas, and Steven Rodriguez from Oxnard, gave the crowd their money's worth. It was an action-packed, non-stop punching event that had the crowd on its feet, making the already loud event, louder. Sitting ringside, I was in the red corner and heard the instructions given to Rodriquez by his coach. Both boxers performed in an above-average manner and earned the crowd's approval. Tough as nails, Alvarado was bleeding from cuts above both eyes, but continued to attack. I had Alvarado ahead on my card, because he threw combinations and was the aggressor throughout the fight. I had it 40-36, but one of the judges had it even, and the other very close. This proves beyond a doubt, if you wanna win, you gotta throw combinations, be aggressive, and be in tremendous shape. It's difficult to remember these guys are only 115 pounds; but then again, dynamite also comes in small packages. Here are shots of the action. Alvarado is in the gold and black trucks.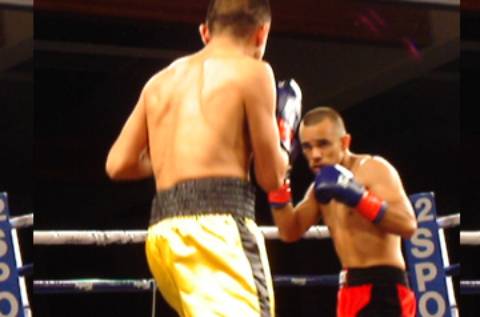 Steven Rodriguez faces Alvarado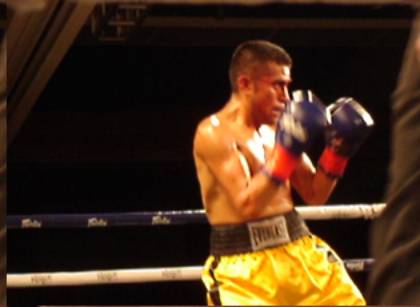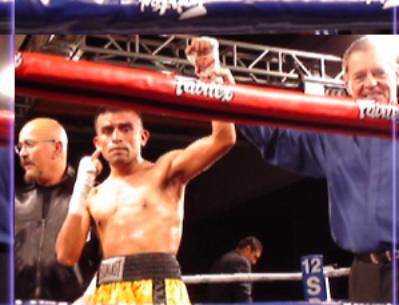 The second bout matched Mike Hull, from Seaside, against Tony Mizel, wearing blue and black trunks, from San Francisco. It appeared Hull had the physical advantages. He showed us he could swat, which he did from every direction. He put Mizel on the canvas in the first few seconds of the round. He also proved he lacked training, conditioning, and experience. He petered out after a short furious attack. This was the second best bout of the evening for action and knocked downs. Getting up off the canvas, Tony proved he had a chin, and heart. Behind on points, Tony went after Hull with the rage of a wrongfully convicted prisoner. He attacked to redeem himself, and landed tremendous shots on Hull that staggered, then dropped him like yesterday's news.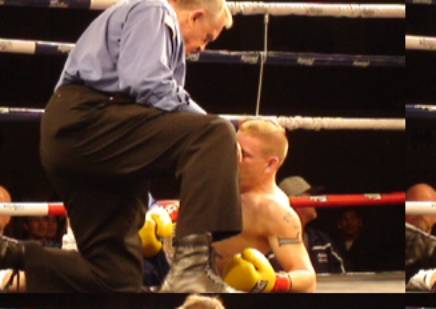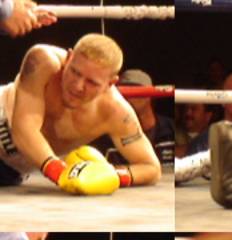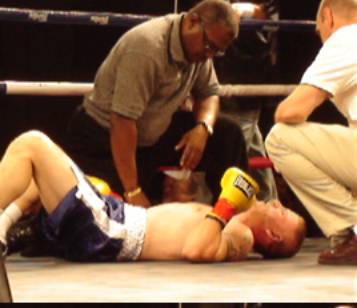 The crowd went nuts as Tony pounded Hull into submission. He was clearly hurt, demonstrating pain on his face, as he lay on the canvas. Marty Samman, the referee stopped it. Hull required additional time to recover from the beating he received. However, I was not impressed with Tony's boxing skills. He lacks a jab, has no defense and seems to just go ape, once he gets hit. This is not to say he cannot punch, brawl, or has heart. However, few successful boxers have surfaced from San Francisco. In my opinion, due to poor coaching. I've watched several tough fighters with great potential fade away after taking beatings from better-trained boxers. One that comes to mind is Big Bad Joe Bradly, who could punch like a mule kicks, but had no defensive skills, and a glass chin. Joe had guns like cannons, and spirit, but no chin. I covered Joe's fights and watched him take pounding after pounding. I watched him lose 25 pounds and still did not do well in that weight. He just didn't have a fighter's chin. What amazed me is that his trainer never taught him how to protect his weak chin. I continue to wish him well. I'm betting he'll come back, boxing is not easy to leave. I predict the same for Tony "Too Much" Mizel. If this young man doesn't receive better training soon, boxers who box, instead of merely brawl, will easily defeat him. Nonetheless, I wish Tony luck. Here is Hull on the canvas.
The third bout was not very good technically. It was however, a crowd-pleasing event. Dario Castillo, wearing red and black trunks, who looks like his brother's twin, pounded out a hard-fought victory over Brandon Mahoney. I was disappointed to see Mahoney, with every physical advantage, not use it to easily defeat the brawler Castillo. Dario lacked everything but heart. Anyone who knows boxing will agree that Mexican boxers usually have great chins, lack boxing skills, like to brawl, are not in the best of shape, but wanna kill their opponents. This was also the case with Dario and made for an exciting brawling contest with Castillo, fighting from a south-paw position, clearly mirroring Mahoney, who lacked the jewels to keep Castillo on the outside. To make it worse, Brandon comes from Wild Card Gym in Los Angeles. He should have been several classes above Castillo. However, you can't judge heart--nor the willingness to get into the mix--by size. Nothing makes up for a killer instinct and the willingness to die--if necessary--to win. Mahoney failed to gain Castillo's respect. He failed to use the jab, then throw a left cross as he came in. Lack of speed, experience, and the willingness to die to win, were the reasons Brandon, who should have easily won, lost. Here is Brandon, wearing red trucks with white stripe, and his tongue sticking out. Here are several shots of the action.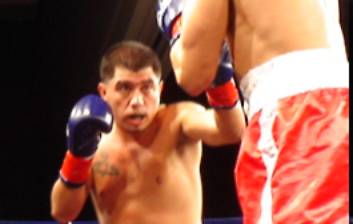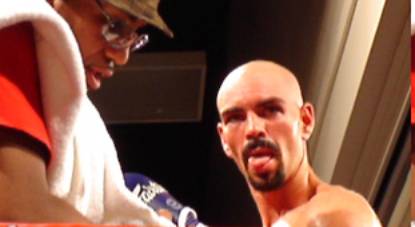 The super heavyweight bout was another disappointment. William Jackson, an inexperienced brawler, made a poor impression on the crowd as he came out swinging from left field trying to land a lucky shot, on Keith "The Giant" Spencer. The Giant easily established control over the fight and clearly out-classed his opponent. I was sorry to see the fight end so quickly. It is not often we have an opportunity to witness boys of this size throw bombs at each other. Watching a big man go down is something boxing fans rarely witness. Spencer, said to be a "fighting" instructor for the Navy, seems to have the tools, heart and mental discipline to make it in this game. I hope to see more of him. Here's Jackson trying to get up.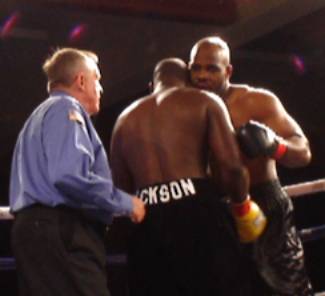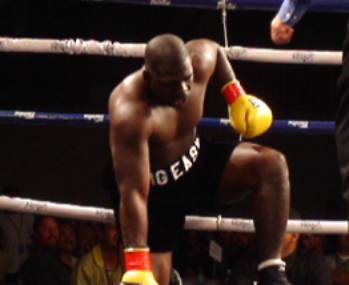 The women's bout was a disappointment. I believe women can be as good at boxing as any man. Local Carina "La Reina" Moreno proves that on a regular basis. However, I was not impressed with Stella Nijhof, reported to be eight-time women's national champion. I expected a boxing match, with lots of technique, counter punching, pivots and finesse. It was nothing like I hoped. Stella looked weak, slow, clumsy, awkward and just in over her head. I don't know how this performance would reflect a National Champion. I noticed improvement in Kaliesha West, who demonstrated better technique, and good hand speed. She still lacks a knockout punch, because she fails to pivot when she lands her shots. I was more than a little disappointed with her trainer, who should know better, said some ungracious things about Nijhof. I've met "Sugar" Shane; I had the privilege of sitting next to him ringside at the HP Pavilion in San Jose. We chatted and exchanged opinions. It's as good as it gets in this business. I avoid engaging professional boxers outside the ring. I have no opinion of fighters outside the ring, unless they behave in an exceptionally good or bad way. Guys who make the papers because of criminal behavior, usually get a little attention from me. I've not been impressed with most of these guys outside the ring. Very few are able to communicate their passion, fury, philosophy or psychology. You'll not find many articulate boxers. Even the coaches who brag or say stupid things, are not very well spoken. Look at the gangster of promoters, Don King; he sounds like he never went to school. You've read live interviews, they are not very impressive. Those you've seen on TV are rehearsed, and read from a script. Producers don't risk so much money without making sure their interviewees have something intelligent to say. And as they say, "You don't have to be a scholar to kick somebody's ass."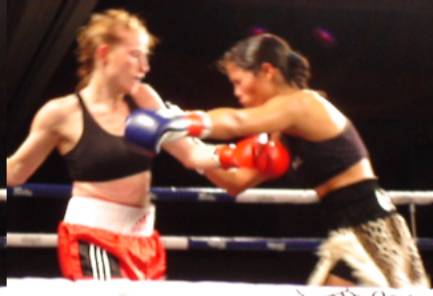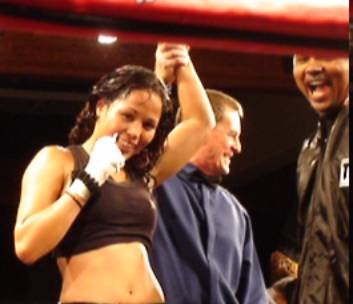 This brings me to the Main Event. Let me begin by saying this: Chuy Rodriguez is a great guy, who has overcome tremendous obstacles to get where he is. He is a hard working guy who's gotten here via years of discipline. I have no opinion about Chuy or Hector Saez outside the ring. I am not interested in their day-to-day life. But, the following is also true. Chuy comes out with twenty or thirty kids leading him out. I have no idea what this means. I would suggest he not do so. It keeps the kids out way past their bedtime; it places them in an age-inappropriate environment, and is not the place where I'd take kids. Boxing fans are not known for their politeness or good manners. Fights often break out at boxing events and children get enough violence on TV.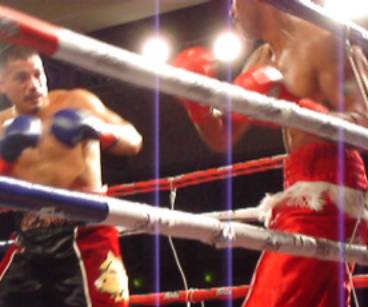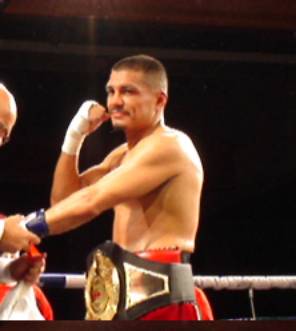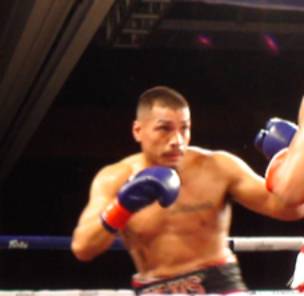 Keep in mind what I said about live interviews. I read one by Dennis Taylor of Monterey County's The Herald. I mention this because "professional" sportswriters have to cover lots of events if they want to get paid. They've got to cover baseball, basketball, football soccer, tennis, etc. etc. It's one of the downsides of being a writer. So, keep in mind, his job is on the line; and as they say, "You'll only be as good as your last headline." I'm sure Dennis is a great human being with worthwhile qualities. That being said, I was not impressed with his interview of Chuy, or his coverage of the fight. He had an opportunity to impress us with a blow-by-blow detailed coverage of the event, yet he let us down. He described the bout as a "technical, tactical eight-rounder." He must have not been paying attention, or not know a right hook from a touch down, because, it was anything but that. It was a horrible brawl with more grabbing and holding than actual fighting. Neither boxer wanted to win. Both seemed to have their next fight in mind, and neither risked much. This lack of lethal intentions made the brawl little more than a sparring match. I know Chuy has to look out for his future, but at what expense? Looking like yesterday's hero is not the way. Believing your own press, especially when it is clearly exaggerated, is dangerous. Salinas is very far from competitive boxing. History proves repeatedly home-town heroes are only big in small ponds. There are very big fish out there ready for an easy meal. I would suggest he consider changing trainers and learning proper boxing fundamentals. Perhaps no one told him that the most important punch in boxing is a jab. It's the only difference between a boxer and a brawler. Dennis also said the third man in Rodriguez's corner was "Sugar" Shane Moseley's father. This had no merit on Chuy, the fight, or its outcome. Moseley was there, but Max never let him say a word. Mosely was there, I suspect, because Chuy's trainer is politicking for a connection and bigger paydays. If Dennis knew boxing, he'd know this is common practice, and merits little attention. If Dennis had been following Jose Celaya's career as long as I have, he'd know that Jose was also hand-fed unworthy opponents in order to build up his professional record. This is common practice by local promoters who have to promote local heroes in order to sell tickets. It's a business; and without a profit, you won't have boxing events. I warned him since I first saw him beat up unworthy opponents. Tragically, when he stepped in the ring with a quality fighter, while under the guidance of another big name, Emmanuel Steward, he got the stuffing knocked out of him. Jose took a terrible beating at the San Jose Civic Auditorium. It was painful to watch. I've not seen Steward around since then. Jose, who is also a fine human being, lacked punching power. I was sitting ringside, and not six inches away from where Jose landed on the canvas. He took a terrible beating, allegedly because he couldn't make weight. This is nonsense for a professional fighter. Making weight is essential, not something left to whimsical thinking, or flimsy scales, as reported. Boxers fail to make weight because they get lazy and overeat. A boxer can't take time off. This also means big names don't guarantee success.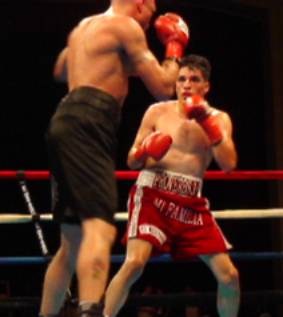 Jose Celaya took a beating from Spider Web in San Jose, 2006
Remember who was in the corner when Sugar Ray Leonard beat Hearns? Steward failed to tell him to back up and punch. Sugar Ray outsmarted Steward and beat up his protégé. I think Jose made several drastic mistakes by dumping his first coach, and not moving to Los Angeles. He got caught up in the hype and all the smoke and mirrors of fame. Someone forgot to tell him it's lonely on the mountaintop, and it's a long way to fall. Nevertheless, I wish Jose the best, I hope he's fully recovered and has regained his health. I like him; however, I gotta call it like it is.
I wonder if Team Garcia had any strategy as they claimed in the interview. What good is having a plan, if your boxer can't implement it? What good are all those ideas, if your boxer won't follow the plan? Jesus "Chuy" Rodriguez seemed totally confused and frustrated by Hector Saez's awkward style. Saez bent forward and squatted as he punched. He made many amateurish mistakes and failed to use his longer arms to jab. He was as graceful as a drunken ballerina. He never pivoted into his punches, and was as slow as Christmas. Most importantly, he did not want to win. He lacked what Rocky calls, "The eye of the tiger," but so did Jesse. I don't know if Dennis wrote his article before or after he interviewed Chuy, because it was not the same fight I saw. I saw little more than brawling and grabbing, not worthy of a title fight. Neither boxer demonstrated any noteworthy skills. It looked like Dennis was trying to make a mediocre fighter appear better than what he is. This is a common practice and helps sell papers.
I don't think I'd call Chuy, "The Pitbull." After this fight, a more appropriate name would be "The Junk Man", because he threw a lot of junk. I would not describe this as his best performance. A more correct headline would have been " Local Boxer Fails to Impress," or, "Local Hero Fails to Knock Out Unworthy Opponent." I still don't understand why Chuy hasn't learned to box. He turns his lead foot towards the inside, thereby stopping his forward movement. He fails to pivot when he punches, which equals to no power on his punches. He seldom throws combinations, which means he does not follow through. He lacks a jab, which happens to be the most important punch in boxing. He can't counter punch, and he seems to lack a knock-out punch. I gotta wonder if Dennis was even paying attention. I understand stories sell newspapers, but isn't there some code of ethics among newspapermen, that says something about honest reporting?
Reading his coverage of the fight was confusing. I sat ringside, but after reading the article, I swear it must have been a different bout. Saez clearly had physical advantages. He was taller, but failed to jab and stay away. He lacked confidence and could not punch; I don't know where he got the reputation for knockouts. I think both Chuy and Hector failed to give the crowd their best. As Chuy is quoted in the article "I got to think about my future". This is not the philosophy of a boxer who wants to be a champion. It is the thinking of a guy who's losing the desire to fight, and is now only in it for the money. Yes, pro boxing is about the money, but it's also about pride, honor and the desire to climb to the top. It's what makes this game worthy of a man's best efforts. Anything less is beneath and outside the realm of a champion. I've spent my whole life around fighting men, and I've never heard one of them making such statements. I would suggest Chuy consider the future will take care of itself, if you take care of today.
I saw several head butts, but Saez was clearly the loser. He was sporting a large knot on the right side of his forehead. Dennis had several quotes from Max, but once again they sounded conveniently invented. He claims their tactic was to stand back, and work the jab like a piston. I never saw anything resembling a piston, or a jab. I might have seen a flat tire, or out-of-whack engine. Chuy forgot how to jab; he waited, and waited until Saez tried something before he responded. It made for a dull contest. I'd say he was being careful to the point of boredom. He compromised himself to the point of self-betrayal.
I agree Chuy won the bout, but only because someone had to win. I believe he did so because he was the aggressor, and threw more punches. However, it was not a good boxing match. It clearly demonstrates Chuy needs to get out of Salinas and to Los Angeles where he can get better training. He needs to recreate himself--if he wants to continue winning--and not end up like Jose. It clearly showed Chuy's weaknesses, lack of experience and gaps in his discipline. I still don't understand why a guy with potential would stay in Salinas. It's in the middle of nowhere. It doesn't even have an airport or train. Other than family, what would make anyone with dreams of glory stay here? He could go back and forth to Los Angeles, like Vicente Escobedo from Woodland, at least until after he won a real title. He could return in triumph--rich, famou--and make everyone proud.
As far as the article in The Herald, it sounded self-delusional. Its is easy to speak about how great everyone is afterwards, if you win. I remember when Antonio Tarver knocked out Mosely; he described his punch as the "perfect right hand." I saw it, and it looked like a lucky punch, thrown by a desperate man, and nowhere near perfect. But, dishonesty is a common disability. I've been in this game all my life, and I've read very few honest interviews. Rarely do trainers, managers or boxers have a real perspective on themselves. Most start to believe the smoke blown up their whazoo is real, and can't see the forest for the trees. They lack the self-detachment to make objective observations. I've also heard unbelievable things said in the corner. I've been in this game all my life, and I was still shocked by Saez's trainer, who kept shouting for him to stop boxing so much, and start fighting. This is insane, and about as smart as saying, shoot yourself in the foot, during a race.
I love Monterey Peninsula--the weather, the sea lions, the foghorns and the fog. I'd rather be here than anywhere in the world. It was a great show over all. The after-party was not very well planed. The boxers, who are usually not well spoken, need a translator and a moderator. Jerry needs to hire someone to introduce them, and arrange for a "reception table" to have people meet them and get autographs. I'm sure everyone would have been much happier.
I wish to thank Jerry Hoffman for the opportunity to cover his event. I congratulate him on his success. This degree of success is a rare thing. I sincerely hope Chuy gets a real title shot. I'm gonna light a candle and pray. I'm also gonna ask Santa Claus to bring Chuy a jab, balance, footwork and combinations. I'm gonna ask Santa to stuff a new trainer, and better sparring partners, into his stocking. Chuy has an abundance of things he doesn't need. I love this game. I respect everyone who has the courage to step into the ring. Each time I make the trip to Monterey, I am reminded how beautiful California is and why I stay here. I often give thanks for the opportunity to be a part of such a great game.
Just when you think things can't get any worse. I've learned that the Buena Vista in San Francisco, one of my favorite places in the world, is no longer using Irish Whiskey in their Irish Coffees. This is one of the places where I romanced my wife. I spent many an hour contemplating life and how easily it can go haywire. Some 54 years ago, Irish Coffee was born here, and is considered the "cathedral of Irish coffee." As I've said, it's getting harder to understand the world.
Central Valley boxing fans can stand up and cheer. The best-unknown contender in Stockton, Rodney Jones, will finally get a title shot. A deal with nefarious Don King has been worked out for Jones to Challenge Cory Spinks for the IBF's 154 pound title. Jones is going to Hollywood, Florida, for a press conference. Our local hero has not fought since he beat Raul Frank on February 24, 2006. I wish Rodney the luck and good punching.
Anyone in the Stockton area looking to learn boxing can go to Fitness Systems Gym in Lodi, CA, my new training headquarters. I will consider anyone 12 years and older. Everyone is welcomed. Gym membership is required. Those interested can contact me.
I don't call Stockton Gun Smoke for nothing. Recent police shootings, on-going drive-bys, and car jackings continue. Everyone should keep in mind that the holidays make people a little crazy. Many people commit suicide during this time. Loneliness seems harder to bear when you think everyone is happy, but you. The truth is, everyone is as happy or unhappy as they were before Christmas. Don't permit yourself to go nuts--it will pass. The days ahead will force everyone to choose between what is easy, and what is right. Let's pray our elected leaders will bring our boys home from Iraq.